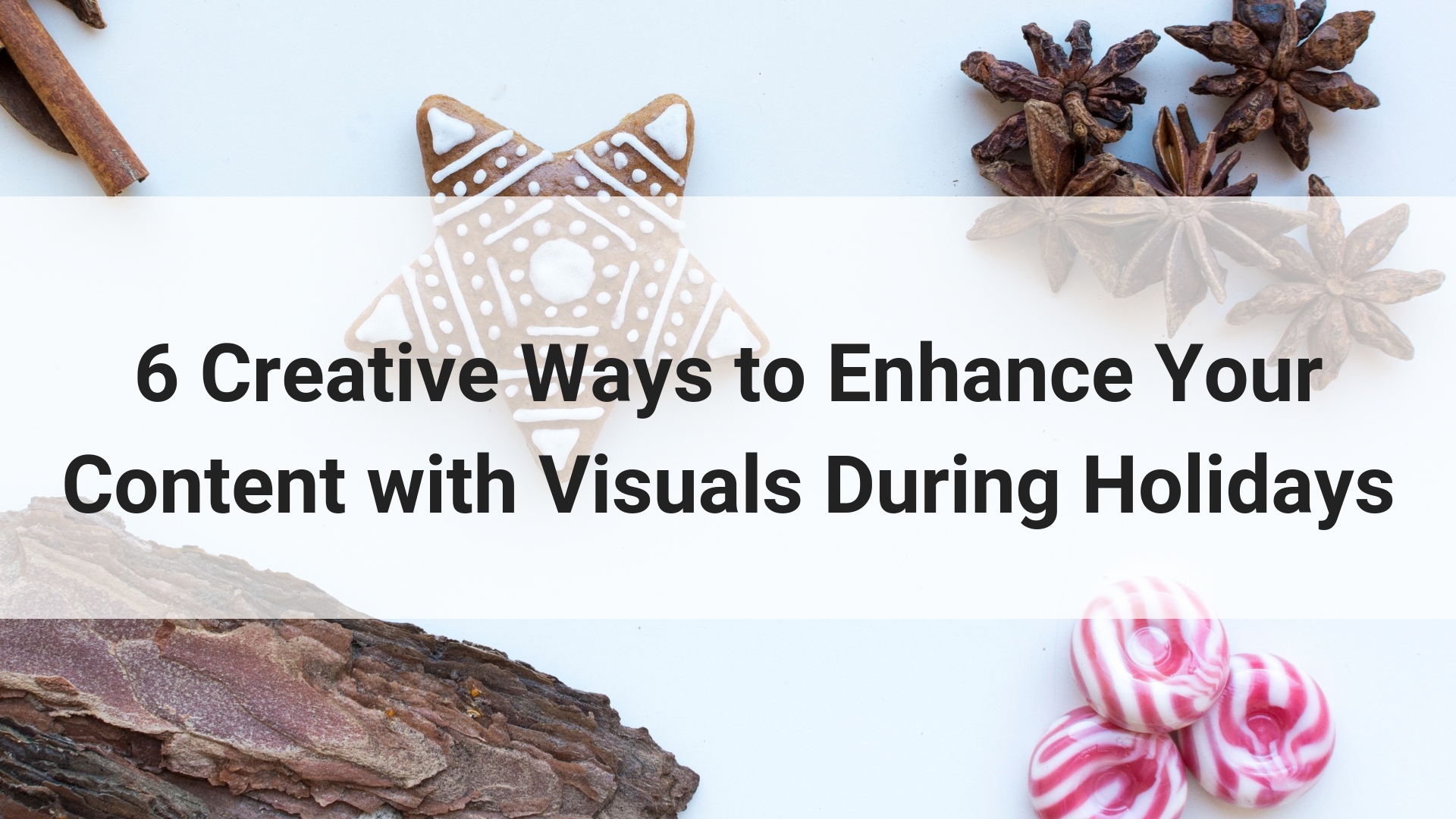 Let's be honest.
Cute images of kittens, puppies, laughing babies… we love them all. Who can resist? Eye-catching visuals captivate and excite us. They make us happy.
It's a visual world and people respond to visuals. Joe Sacco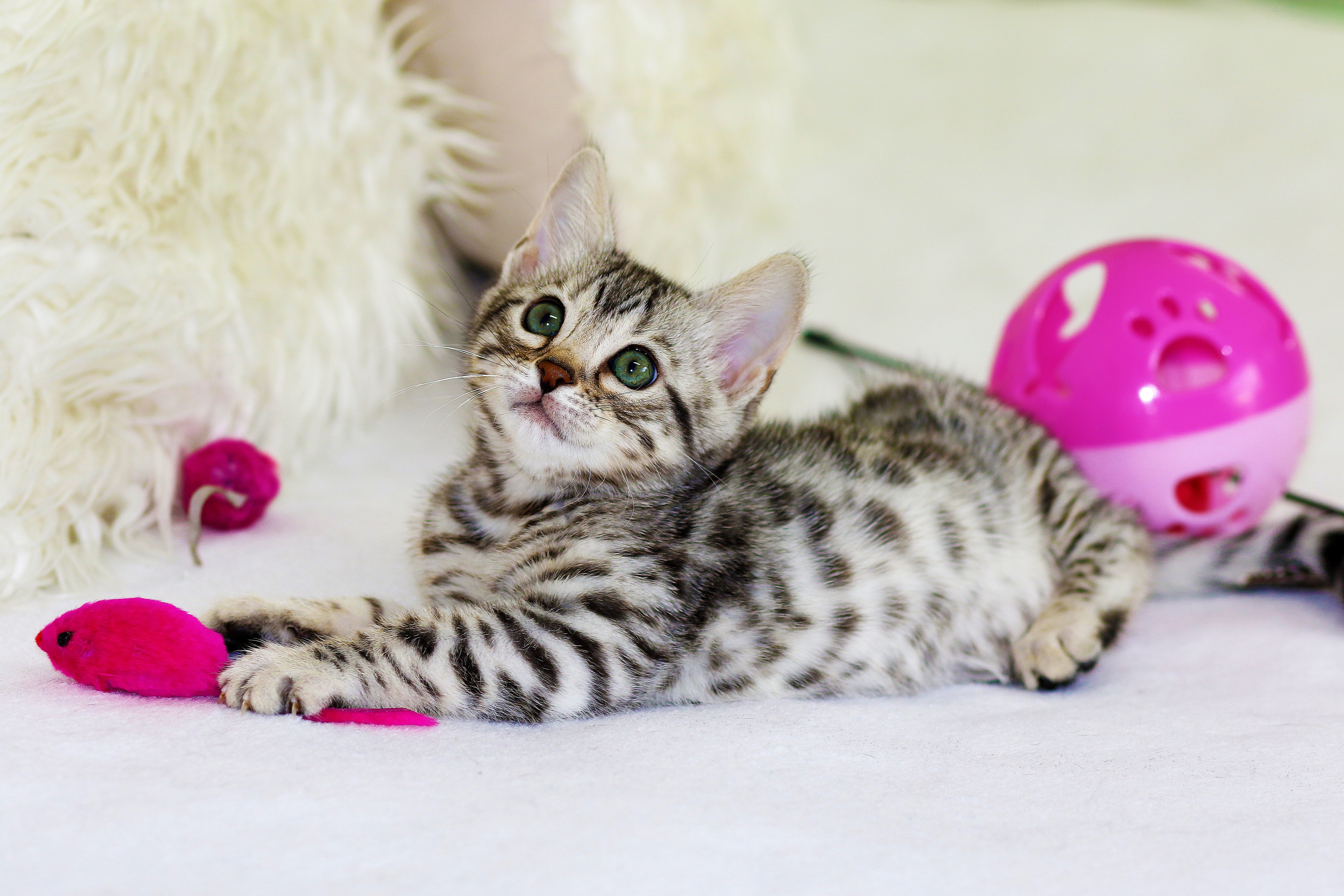 Because our brain processes visual information 60,000 faster than the text, about 65% of people on the planet are visual learners.
In the world of digital marketing, it means one thing. We use visuals to explain easier and faster what we want to tell our audience. By visuals I mean images, videos, memes, and infographics.
The holidays are just days away. And hand in hand with holidays come seasonal promotion.
Online businesses often neglect atmospheric holiday elements. Wrong! Adding a seasonal touch to your site or blog is like decorating your store to attract visitors and encourage them to buy. Everything from music to holiday-related elements on your site can serious impact on your visitors. Meaning it can boost your traffic, increase conversions, and grow your business.
Look at this John Lewis advertisement from a couple of years ago.  Captivating, right?
Why using visuals?
Here are some interesting statistics about the use of visuals in digital marketing.
Holidays are not only the best time a year, but it is also your unique seasonal opportunity to enhance your site or blog content with stunning images and graphics to attract, convert and delight your visitors.
Here are 5 easy and effective ways  you can add a seasonal touch to your holiday marketing strategy content:
Images
Images are simply awesome. They are the perfect way to stimulate your audience and motivate them to do what you want. Great images are a sure way to draw their attention.
40 Great Photo Sites to Get FREE Holiday Images
40 astonishing photo sites to get your holiday high-resolution photos for commercial use absolutely FREE.
You can use holiday images through your blog posts, in your holiday header or make custom looking images consistent with your brand to share in the social media.
This Pin image is for you to Pin and share!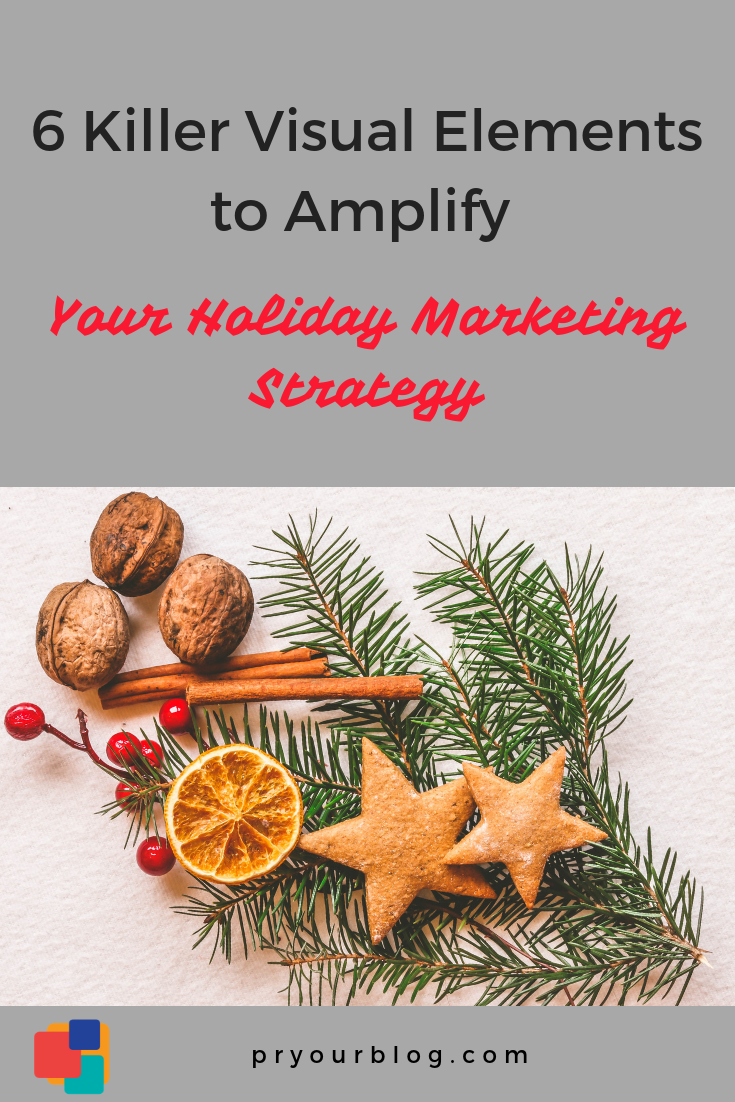 Also, if you like Parallax Effect Backgrounds, here is a good free tool to use to choose the one for the holidays.
Videos
You can find a great many seasonal videos to your taste on Youtube or use your own. Embedding them on your site is easy.
Including a relevant high-quality video in your blog post is a great way to boost your SEO. The longer your visitors stay on your site, captivated by the video, the better. It increases your site authority and improves your Google ranking. This video will show how to embed videos on your blog.
If you don't have a video you can create one using your images.
Infographics, Vector Graphic, and Memes
Infographics is a preferred way for many people to learn things. It is visual and to the point.
FREE tools to make your holiday infographics:
Free vector graphic (a source for good graphic elements)
For those who like Memes, Memesgenerator is the place to go to grab some fun holiday memes for your blog:)
 Holiday Fonts

Another way to build anticipation and excitement around your site content around holidays is using holiday fonts. Using special fonts in your content is easy. Get your visitors in the mood and keep them on your site.
Free Christmas fonts on Canva:
Here are the names of the free few fonts to use:
One Starry Night
Metro Retro NF
Sentinel
Chopin Script
Navidad
Nickelodeon
Holleigh Caps
Shipped Goods
3 Good Sources to Find Free Holiday Fonts:
If you are concerned whether your font looks good with other fonts you are using, use this free font compatibility tool.
Holiday Music, Countdowns & Snow Falling Effect Plugins

Getting into Holiday mood is easy with holiday music, customized holiday count-downs, or even Christmas lights on your site!
Christmasify plugin is all-in-one amazing WP plugin.  This easy-to-use Christmas plugin that can add snow, Santa, decorations, music and pretty Christmas fonts to your WordPress website. Sounds like a winner to me!
With this Christmas Count Down Widget or Countdown Timer plugins you will be able to create anticipation for your new product or event around holidays.
There are WP plugins that will make it snow right on your screen!
Falling snow is captivating, pacifying, and very holiday-like…You can add a very nice looking animation effect of falling snow to your site and get in the mood for the upcoming winter holidays. Lots of people like snow. It will be a nice touch to get your visitors attention!
This is a good WP plugin to try:)  WP Snow Falling plugin.
And if you are handy with CSS codes and using a Divi theme, you can follow these instructions to let it snow on your site!
Holiday Opt-in Forms & Pop-ups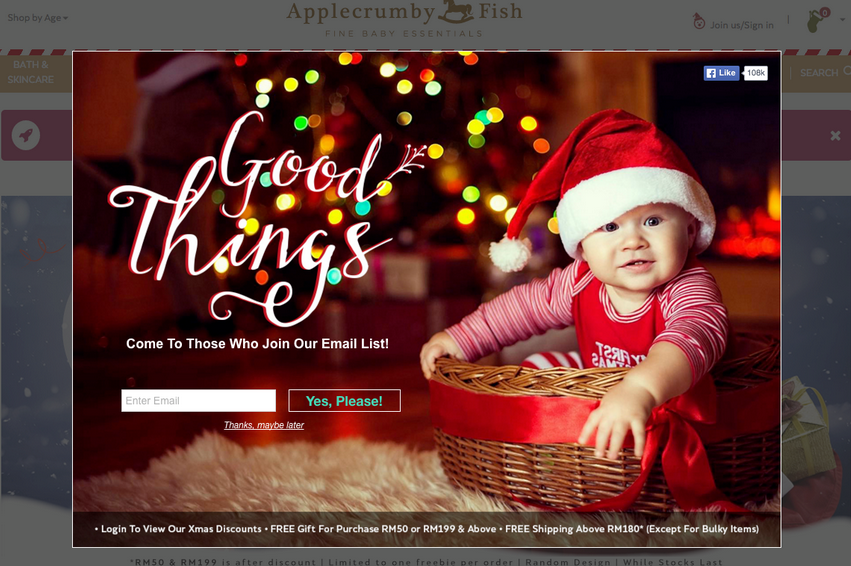 Pop-up credit.
Not everyone likes pop-ups…We know it. But they are an effective marketing tool for email list building. Sigh.
An effective opt-in form will drive visitors' engagement which in turn, can lead to conversions. Pop up promotions are an excellent way to engage your website visitors and encourage them to take specific actions.
It is the perfect time to say to NO generic and boring popups during the holiday season.  Time to create something eye-grabbing and spectacular!
This plugin hardly needs any introduction. It is one of the best email list building tools on the market.  It allows you to create beautiful optin forms that are proven to convert. You can create various type of campaigns including WordPress popup forms, floating header and footer bars, slide-ins, sidebar forms, after post forms, in-line forms, mobile-specific forms and more. They are highly customizable. You can make your holiday popup in now time to increase conversions on your site or blog!
If you use a Divi theme, Bloom opt-in plugin comes with the theme for free. You can add email opt-in forms to your website, each of which can connect to your email marketing service or software. It has a great choice of layouts and designs for your opt-ins. This is just a small fraction of options you have: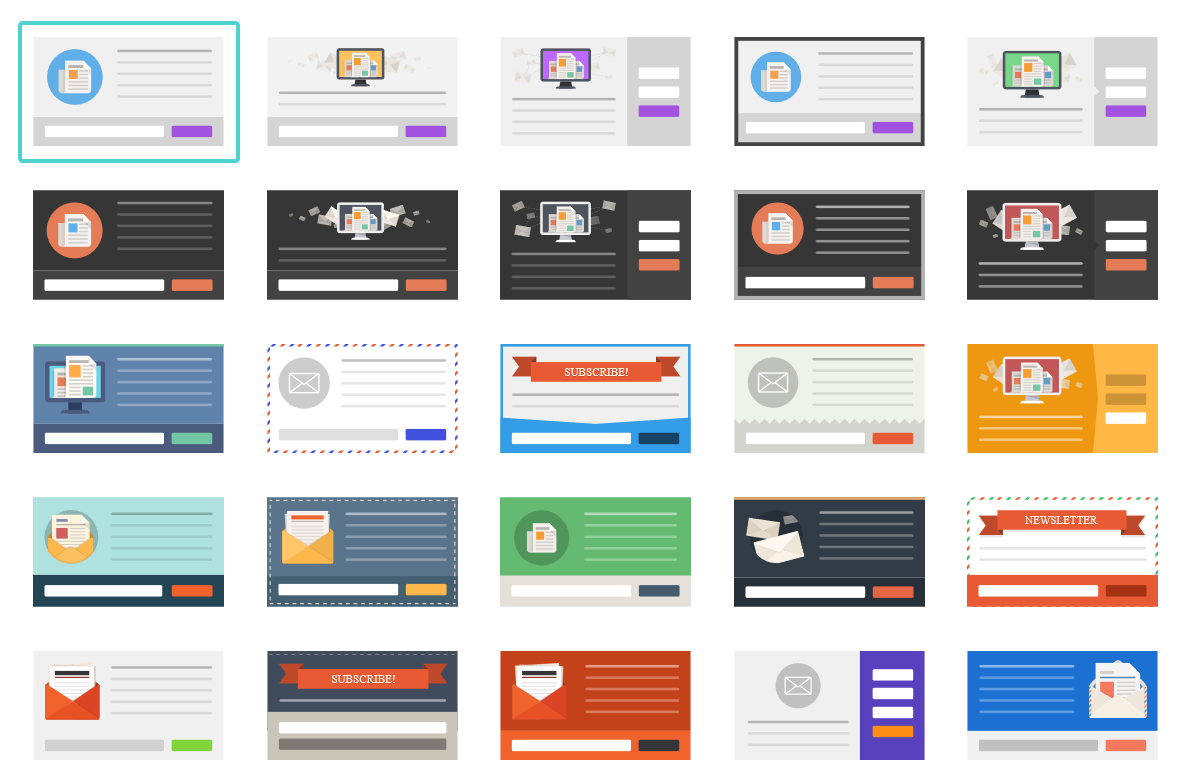 This plugin is very flexible and versatile. It can be customized any way you like to fit your brand. It can also connect with any email marketing service existing.
This Holiday season you can make it happen! Use visual strategies to maximize your conversions. Create custom visuals as branded holiday images and videos, holiday infographics, holidays inspiring opt-in forms to captivate your clients' attention. Use enhancing holiday spirit details like Christmas fonts or count-downs to get your visitors in the holiday mood, the mood of buying from you what you sell.